Block chain experts from around the world decide to join one after another
Venue: Tokyo International Forum (10,000 people will be mobilized) More than 100 global block chain companies participate. Japan's largest block chain conference "JAPAN BLOCKCHAIN ​​CONFERENCE 2018" 6 / 26.27 (Japan Shibuya K. I Building 4F, Shibuya K. I Building 4F, Representative: Toshiyuki Hanada) handles the Global Block Chain Association Tokyo International Forum We are pleased to inform you of the decision of the former CEO Charles Hoskinson, former CEO of Bit Point Japan, Mr. Genro Oda and Mr. Yun Hee Yuan of Tokyo Bito Argo Exchange as Guest Speaker.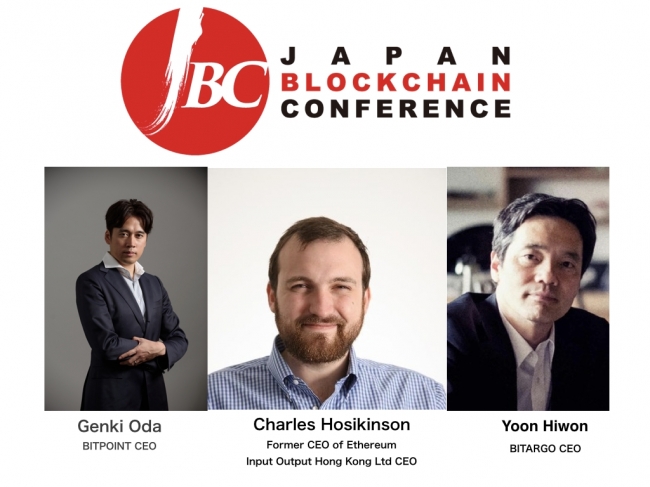 JAPAN BLOCKCHAIN CONFERENCE 2018
JAPAN BLOCKCHAIN ​​CONFERENCE aims to expand the application area of ​​the block chain by interchanging information and interchanging information on block chains and promoting the enlightenment of block chains, with domestic and overseas block chain companies and organizations taking charge of the future of block chain technology gather together.
2018.6 / 26.27 Tokyo International Forum held Tokyo Elementary CEO Charles Phoskinson, CEO of Bit Point Japan, Mr. Genro Oda, Mr. Yun Hee Yuan of Bit Algo Exchange Tokyo was decided as a guest speaker at "JAPAN BLOCKCHAIN ​​CONFERENCE 2018" I will inform you.
Charles Phoskinson




Former CEO of Ethereum / Input Output Hong Kong Ltd CEO
Former CEO, CEO, advance "Cardano Project" with Cardano Foundation and EMURGO. CEO of IOHK (Input Output Hong Kong). Developers of "Cardano block chains" and "virtual currency ADA", which are said to be third-generation block chains. With the ideal of providing financial services to people who do not have 3 billion bank accounts, he announced a partnership with the Ethiopian government in May 2018.
Mr. Gen Oda




CEO, Bit Point Japan Co.

,

Ltd.
Graduated from the University of Tokyo law department. Started studying in the university, later selling the business and engaging in venture investment and business development for more than 15 years. I am involved in supporting social entrepreneurs and NPOs based on the concept of "people who work hard" will be rewarded. Since 2012, we participate in the remix point Co., Ltd. management, and we are investing in and developing business in the business domain of "deregulation / law revision". In March 2016 established Bit Point Japan Co., Ltd. as a subsidiary of Remix Point Co., Ltd. We invite people from securities firms to develop "safe and secure virtual currency transaction" and "virtual currency to be used on a daily basis" with business philosophy. Currently it is deploying virtual currency exchanges not only in Japan but also in Korea, Hong Kong, Taiwan and Malaysia.
Mr. Yoon Hee-won (




Bit-Argo Exchange CEO, Tokyo

)
It is rarely 12 years and 15 days in 1964.
After completing Graduate School of Keio University, joined Solomon Brothers Securities Company.
He is engaged in arbitrage transactions of Japanese and Asian shares.
Retired from the company in 1999 and entered Doctoral program at Keio University Graduate School of Engineering.
In 2000 founded CMD Research Co., Ltd.
Developed algorithmic trading logic development and equity execution theory construction and execution analysis tools in shares.
Established CMD LABO CORPORATION in 2007 and assumed office as Representative Director.
Developed an algorithm and ordering system to analyze order status in real time.
Established Bito Argo Exchange Co., Ltd. in 2017, assumed office as Representative Director, and fulfill registration of the Financial Services Agency the same year.
Next in 2018, we are preparing for partnership with Yahoo group and we are preparing for the operation of virtual currency exchange which looks at algorithm · trade.
Japan Technical Analyst Association Councilor, Professor of Digital Hollywood University Graduate School.
-JAPAN BLOCKCHAIN CONFERENCE概要
Sponsored
General Global Block Chain Association
Schedule
Tuesday, June 26, 2018 (Wednesday) 27th (Wednesday) 9: 00-18: 00
Venue
Tokyo International Forum Hall E (1) + (2)
100-0005, Marunouchi, Chiyoda-ku, Tokyo 3-chome No. 5 No. 1
application-ticket purchase or on the day ticket purchased at the How to participate this site
-Guest Speaker
Yoshitaka Kitao (SBI Holdings) "Special Keynote Lecture"
Charles Hoskinson (Former CEO of Ethereum/Input Output Hong Kong Ltd CEO)
Genki Oda (BITPOINT CEO)
Yoon Hiwon (BITARGO CEO)
Keith Teare (TechCrunch Founding Shareholder)
Yuri G. Rabinovich (Synergy Chain Founder)
Jean-Marie Mognetti (Coinshares CEO)
Sam Lee (Ethereum South China Co-Founder)
David A Cohen (IOTA Foundation / Founding member's central figure)
Tony Lane Cassely (CoinTelegraph Co-Founder)
Sally Eaves (Blockchain expert)
Dorian Johannink (The Sylo Protocol)
Ben Jordan (The Sylo Protocol)
Aaron McDonald (Centrality CEO)
J.D. Salbego (Legion Ventures / Founder, CEO Startup Grind (Hollywood) / Co-Director)
Stephen Chase (CoinTelegraph/Board Member)
Rizmy Shariff (Former NASDAQ Dubai JHR Investments / CEO)
Jared Polites (Former TIME Journalist / PATRON Advisor)
About Global Block Chain Association
– Organization of officers
Representative Director Toshiyuki Hanada
Hiroshi Yasuda (President, Tokyo Denki University, Emeritus Professor, University of Tokyo) Preparing for registration
Director Kazuhiro Nakatsuka (former member of the House of Representatives, Former Cabinet Office Mission Specialist (Finance) SBI Holdings Co., Ltd. Managing Executive Officer Managing Director) Register preparing
Board member Yoshihisa Matsuno (former member of the House of Representatives, Deputy Secretary of the Cabinet Secretariat)
Director Shuichi Masuyama (Visiting Professor, Asahikawa University, Director, Hokkaido Bureau of Economy, Trade and Industry, Former Ministry of Economy, Trade and Industry)
Director Xia Yegang (Professor of Recruitment, Graduate School of Management, Keio University)
Board Yoshinari Yajima (Chairman and CEO, Taiki Group)
Adviser Yoshitaka Kitao (President, SBI Holdings, President and CEO)
Mr. Michitaka Tanaka
-NEWS
APN NEWS
Sankei News Co., Ltd. Sankei Digital
http://www.sankei.com/economy/news/180608/prl1806080002-n1.html
Financial News Newspaper Co., Ltd.
http://www.zaikei.co.jp/releases/637691/
 LINE NEWS (line news) LINE CORPORATION
http://news.line.me/articles/oa-rp31535/6e4ee135a26a
Location: Shibuya, Shibuya-ku, Tokyo 1-16-9 Shibuya K. I Building 4F
Representative: Toshiyuki Hanada
Established: May 2018
URL:  https://japan-blockchain-c.com/
Business description: Block chain technology Promote international cooperation of players involved in the development and utilization of the technology and the development of related business as the business (including the virtual currency) utilizing the technology rapidly progresses By doing so, it contributes to the development and development of a healthy business environment and the protection of appropriate users under the organic linkage.

ICO MARKET,Inc.
---
※This content is not intended for solicitation of investment or advice. In addition, although this content is created based on materials and data judged to be reliable, we do not assume the obligation to investigate and confirm the accuracy and reliability of information.
※We are not engaged in any projects that require permission of virtual currency exchange traders.