PATRON handled by EXTRAVAGANZA INTERNATIONAL, INC. (Headquarters: USA: Representative: Atsushi Hisagi) has completed the first distribution of Airdrop campaign to PAT holders.
I will also inform you of PATRON update.
1.PATRON listed on HitBTC after the token sale ended last week, exceeding the trading volume of existing currencies including EOS last week and recorded a transaction amount of less than 400 million yen in 24 hours.
As we increase the value of the token, PATRON will also advance the development of a global influencer sharing economy platform.
We will also report on the fact that listing approaches to new overseas exchanges are progressing as well.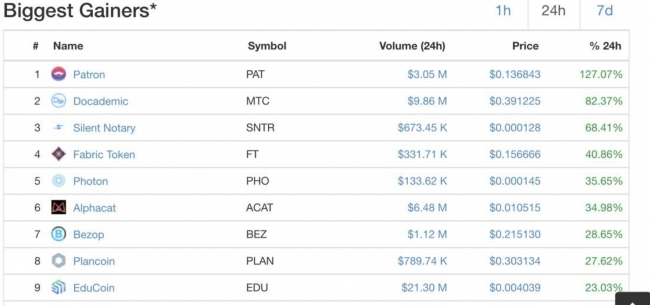 2. About Airdrop campaign against PATRON / PAT holders.
PATRON has performed a campaign to Airdrop 7% of the monthly holding amount to all PAT holders, and the first distribution has been completed.
2. JAPAN BLOCK CHAIN ​​CONFERENCE 2018 elected as the main sponsor
6 / 26.27 we will inform you that it has been elected to the block chain conference "main sponsor of the JAPAN BLOCK CHAIN ​​CONFERENCE2018 of Japan's largest, which will be held at the Tokyo International Forum.
On the day, 10,000 people will visit, more than 100 domestic and foreign block chain companies will participate, booths will be exhibited, panel discussions will be held.

-JAPAN BLOCK CHAIN CONFERENCE概要
https://japan-blockchain-c.com/
Sponsorship
Global Block Chain Association of the General Association
Structure of officers
Representative Director Toshiyuki Hanada
Board Yoshinari Yajima (Chairman and CEO, Taiki Group)
Board member Yoshihisa Matsuno (former member of the House of Representatives, Deputy Secretary of the Cabinet Secretariat)
Director Xia Yegang (Professor of Recruitment, Graduate School of Management, Keio University)
Director Juichi Masuyama (Asahikawa University Visiting Professor, based on the Ministry of Economy, Trade and Industry Hokkaido Bureau of Economy, Trade and Industry)
Director Hiroshi Yasuda (Tokyo Denki University President, professor emeritus at the University of Tokyo)
director Ikko Nakatsuka (former Member of the House of Representatives, based on the Cabinet Office of State Minister (Finance) SBI Holdings Co., Ltd. Managing Director and Managing Executive Officer)
Mr. Michitaka Tanaka
Adviser Yoshitaka Kitao (President, SBI Holdings, President and CEO)
Schedule
June 26, 2018 (fire) 27th (water) 9h ~ 18h
Venue
Tokyo International Forum Hall E (1) + (2)
way to participate
Application / Ticket purchase on this site or purchase the ticket on the day
– Guest speaker
TimDraper (DFJ Venture)
Keith Teare (TechCrunch shereholder)
Sam Lee (Ethereum South China Co-Founder)
David A Cohen (IOTA Foundation / Founding member's central figure)
Tony Lane Cassely (CoinTelegraph Co-Founder)
Vitaly Dubinin (BankEx Lab CEO)
Sally Eaves (Blockchain expert)
Dorian Johannink (The Sylo Protocol)
Ben Jordan (The Sylo Protocol)
Aaron McDonald (Centrality CEO)
J.D. Salbego (Legion Ventures / Founder, CEO)
Startup Grind (Hollywood) / Co-Director)
Stephen Chase (CoinTelegraph/Board Member)
Rizmy Shariff (Former NASDAQ Dubai JHR Investments / CEO)
 NEWS   -WORLDWIDE
Forbes
https://www.forbes.com/sites/steveolenski/2017/12/27/how-to-make-influencer-marketing-a-global-experience-in-2018-and-beyond/#38dd124231a7
Entrepreneur   " 12 Blockchain start-up 2018 "
https://www.entrepreneur.com/article/309977
INC    "  5 Tech start-up 2018 "
https://www.inc.com/melissa-thompson/5-tech-trends-that-will-help-your-small-business-become-more-efficient-in-2018.html
Influentive
https://www.influencive.com/patron-raises-10-million-launches-pre-ico-capture-global-influencer-marketing-industry/  
YAHOO
https://finance.yahoo.com/news/patron-japanese-sharing-economy-platform-140000911.htm
Morningstar
https://www.morningstar.com/news/pr-news-wire/PRNews_20171227CN77440/patron-a-japanese-sharing-economy-platform-for-influencers-all-over-the-world-to-launch-premium-ico-sale.html
Sankei
http://www.sankei.com/smp/economy/news/170916/prl1709160055-s1.html
StartupMgzn
https://www.startupmgzn.com/english/news/still-confused-about-blockchain-then-you-definitely-dont-want-to-miss-out-on-this-event-by-dubai-international-blockchain-summit/  
CP
http://cpifinancial.net/news/post/43908/blockchain-decoded-at-dibs
TG daily
http://www.tgdaily.com/cryptocurrency-and-blockchain/how-this-japanese-startup-plans-to-disrupt   https://fintechevents.center/event/patron-ico-review/ 
AtoZ
https://atozforex.com/news/patron-ico-review/ 
CCN
https://www.ccn.com/time-influencers-keep-earnings/
NewsBTC
https://www.newsbtc.com/2018/02/08/patron-company-made-influencers-influencers/ 
Cointeleglaph 1
https://cointelegraph.com/news/a-japanese-startup-aims-to-boost-earnings-of-social-media-influencer 
Cointelegraph 2
https://cointelegraph.com/news/new-platform-for-social-media-influencer-to-increase-views-and-save-earnings
Bitdays
https://bitdays.jp/?p=2625
JBPress
http://jbpress.ismedia.jp/ud/pressrelease/5a6beed177656161f6070000
niconico news
http://news.nicovideo.jp/watch/nw3321701
Coinspeaker
https://www.coinspeaker.com/2018/02/19/revolutionary-influencer-platform-patron-announces-dates-pre-tge/
club influencers
https://www.clubinfluencers.com/patron-la-ico-japonesa-los-influencers/
theCryptoo
https://thecryptoo.com/patron-raises-10m-launches-pre-tge-capture-global-influencer-market/
InfluencerUpdate.biz
http://www.influencerupdate.biz/news/66862/japan-based-influencer-blockchain-platform-raises-10m/
PATRON / Other
Superiority / Advantage (Founder's Blog)
https://ameblo.jp/hisatumi/entry-12357716983.html
Wallet / referral reward program
https://patron.icoadm.in/en/crypto_orders/new
"Prototype
http://patron-demo.collabo-consul.com/lp/
"Telegram -EN
https://t.me/patronicoen
"Telegram -KR
https://t.me/patronkor
"News Telegram
https://t.me/extravaganza_international
"Facebook Group
https://m.facebook.com/groups/609789325896287
"Git Hub
https://gist.github.com/patron-ico/
◇ About Extravaganza The International
【Company Profile】
Company name: EXTRAVAGANZA INTERNATIONAL, INC.
Address: 257 Old Churchmans Road New Castle, DE 19720 USA (WORLDWIDE NETWORK)
Representative: Atsushi Hisatsumi (Kuma Atsushi)
Established: February 2017
URL:  http: // extravaganza -intl.us/ 
Business description: EXTRAVAGANZA INTL ("Extra Baganza International" founded in February 2017, headquarters / Delaware, USA): 1. Software development 2. Major business is marketing support. Influencers and SNS users from around the world can post, discover, book, sell, purchase, and distribute media on the Internet, mobile phone or tablet. Reliable community marketplace "PATRON", SNS users aiming for influencers and real Development and operation of "Fansta" ( https://fansta.us/ ), an automatic fan acquisition support service for people who want to acquire store attract customers via SNS
ICO MARKET,Inc.
---
※This content is not intended for solicitation of investment or advice. In addition, although this content is created based on materials and data judged to be reliable, we do not assume the obligation to investigate and confirm the accuracy and reliability of information.
※We are not engaged in any projects that require permission of virtual currency exchange traders.